Principle of Roll-to-roll
Roll-to-roll control technology is to realize electrode or separator transimission on the equipment effectively for a long time (at any running speed, including machine acceleration, deceleration and constant velocity), high-speed running materials can maintain stable tension to ensure the stability of production.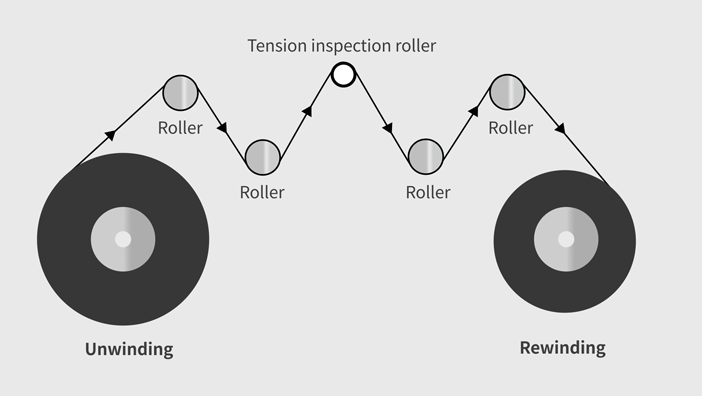 ADVANTAGE
Technical Advantages
High speed and high precision tension control technology
High speed and high precision tension control technology

To achieve high speed micro tension control, constant tension fluctuation ±3%, acceleration and deceleration tension fluctuation ±5%.

The tension control technology builds the optimal control model and algorithm ,which builds the dynamic equation of roll-to-roll according to equation of momental equilibrium, mass conservation law, Hooks law and Coulomb's law of friction.

Set up the relevant control model and determine control soultion after simulation and optimization of the control algorithm, optimization the mechanical model of the winding system,verify the control algorithm and the mutual influence of the mechanical model on dynamic analysis software.

Simulink simulation modeling was carried out for the winding equipment, while the model was verified to ensure the accuracy. Study different control algorithms and simulation debugging of the simulation model to find the best algorithm and parameters turn the control algorithm automatically into the corresponding real-time control program automatically. Through the simulation model, hardware PLC (board card) for virtual debugging, study the virtual real adjustment.
EV Power


Products relative to roll-to-roll